Our Spirits
Bertha's Revenge Irish Milk Gin
Using whey alcohol from the local dairy farmers here in Cork, together with our own natural well water and an interesting mix of foraged and sustainably sourced botanicals, we have hand-crafted a gin that highlights the character of Bertha in her prime.
All is not butter that comes from the cow!
---
And what a name!! The mere mention of it raises eyebrows, poses question, taxes the mind and brings a smile to the lips. Hurrah, our work here is nearly done!
Like any good Irish tale, the story behind our wonderful Bertha's Revenge Gin is a tapestry of good fortune, endeavour and passion. Funnily enough, our gin took about 10 months from conception to birth, not a dissimilar length of time to the average gestation period for a cow!
---
SLOE BERTHA
We are proud and delighted to announce the birth of our second calf SLOE BERTHA.
SLOE BERTHA - a warming tipple made by infusing wild and cultivated sloes with Bertha's Revenge Gin. The wild sloe berries are picked from the hedgerows around Ballyvolane House and beyond, when they ripen in the autumn. We then steep them in Bertha's Revenge Gin for several months and add some sugar syrup at the end to sweeten.
A bit like a good dog, SLOE BERTHA is a welcome companion when taking to the great outdoors over the winter. A few sips of SLOE BERTHA will renew flagging enthusiasm when cold, wet and watching a match from the sidelines. Equally, it will serve to gird the loins when facing the final hill of the day. Away from the sporting field, SLOE BERTHA may be enjoyed as a digestif or as a key ingredient in our Hedgerow Martini.
---
BERTHA'S NAVY STRENGTH
We are delighted to introduce you to a new nautical member of our little herd Bertha's Revenge Navy Strength Gin. We have raised the ABV to a lip-pursing 57.1%, and have shuffled the botanical blend slightly to accentuate one or two of the more pronounced flavour notes. The extra strength gives our merry crew of spices a megaphone through which to convey their message, which is as smooth and as well-balanced as you would expect from a cow riding at anchor.
Bertha's Navy Strength gin tastes divine when sipped over ice. She is also an excellent base to gin-forward cocktails, especially a Gimlet.
What is Navy strength? Click here to find out.
BERTHA'S REVENGE CRAB APPLE GIN LIQUEUR
We are delighted to announce our latest herd member 'BERTHA'S REVENGE CRAB APPLE GIN LIQUEUR'. Crab Apples are attractive to look at, but those rosy ripe skin hues hide a flesh that can be wincingly sour. We age our fruit with BERTHA'S REVENGE IRISH MILK GIN for a number of months, and then filter before adding some local honey, jaggery cane sugar syrup and cloves prior to bottling. The crab apples are supplied by our friend David Keane, an apple grower from nearby Cappoquin. His crab apple trees are excellent pollinators for his apple orchards due to the long flowering time. Some of the crab apples also come from our own gardens at Ballyvolane House.
We have developed Bertha's Revenge Crab Apple Gin Liqueur to be both a supporting band member as well as a solo artist on the drinks stage; she can be enjoyed neat or is an excellent base for a warming winter cocktail like a spiced gin and apple punch.
Conception
Bertha's Revenge was conceived in London town, many miles from her home in Co. Cork. We had travelled over to immerse ourselves in one of the most exciting places in the world in which to experience the joy of gin. We were dumbstruck with the energy, drive and vitality of the gin market there, and came away more determined than ever to make our dream a reality. However one meeting was to prove to be seminal in its importance. We sat down with Charles Maxwell - Head Distiller at Thames Distillery – for a general chitchat. During the course of our discussion he mentioned whey alcohol as a potential base spirit. He rated its quality, and moreover, he highlighted the fact that it had been developed in Ireland. That was it; we were off!!
---

Gestation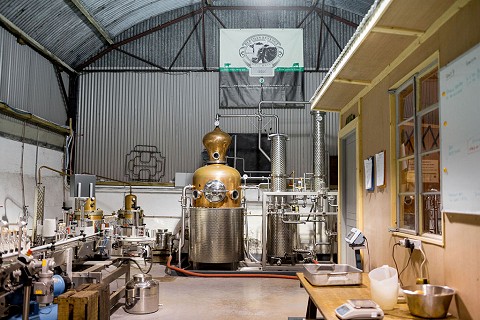 Like all expectant parents, we sought advice, bought self-help books and fretted! But most of all we started distilling! Working in tiny 1 litre batches, and armed with a wide selection of botanicals sourced from near and far, we gradually developed our craft and whittled our baby into a thing of beauty. What we discovered very early on in the development process was that the whey alcohol seemed to carry spice beautifully, and thus Bertha's character was formed.
---
Birth
On the 27th April 2015 the essence of Bertha was born in the form of Batch No. 19. Like any newborn, she – definitely a girl! – was going to need nurturing to develop, but her personality shone bright from that day. Now, what to call her….?
---
Ingredients
Whey alcohol, spring water, juniper, coriander, grapefruit, sweet orange, childish enthusiasm, lemon, lime, liquorice, orris, angelica, laughter, cinnamon, cardamom, cloves, cumin, almond, elderflower, Alexanders and love.
---
Tasting notes
Nose – Jaunty juniper leads, followed quickly by the spicy and warming notes of cardamon, cumin and sweet citrus. The complexity of Bertha is evident and enthralling. She demands to be tasted.
Palate – our whey alcohol base comes to the fore on the palate. Like a conductor of an orchestra, she holds and releases the different notes to maximum effect. Effortlessly smooth from the start, sweet orange, coriander and peppery Alexanders are joined in a warming motherly caress of cumin, clove and cardamon. The generous nature of the spirit washes over the palate, finishing in a gentle spice-tinted heat that delivers a considered murmur of approval from your taste buds.
---
How to take her?
We are so happy with the complexity and smoothness of Bertha, that we really enjoy savouring her character by simply adding a splash of water, and sipping her as a digestif.
She works very well with a good quality tonic, where her complex subtlety lends herself to traditional citrus garnishes.
One of the great tests of a gin is how they perform in a martini. Bertha, stirred for 60 seconds with ice and a suggestion of vermouth, poured into a chilled glass with a simple zest garnish delivers a gloriously smooth and precise cocktail experience.
---