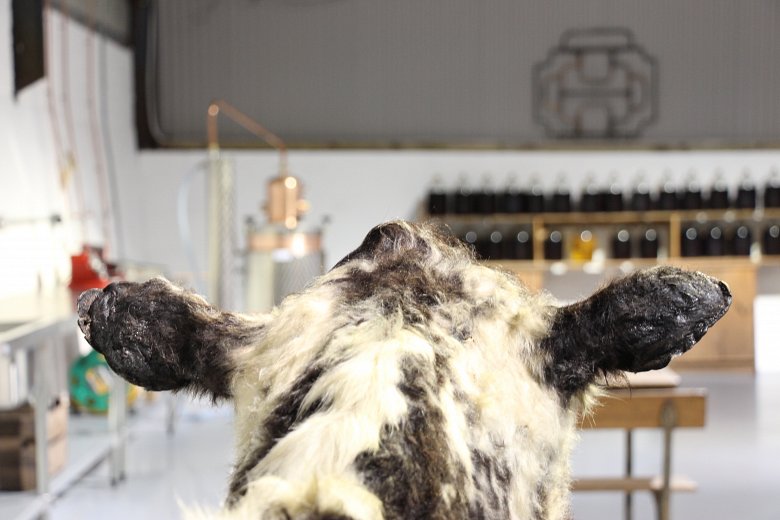 The first Irish distillery to produce small batch Irish Milk Gin from whey alcohol, the Ballyvolane House Spirits Company, launched their new gin, Bertha's Revenge, in Dublin last night in the impressive surroundings of the Octagon Room of the City Assembly House on South William Street in Dublin 2. With a guest list including author and historian Turtle Bunbury, gin-lovers and fans of the new spirit congregated to hear the story of this remarkable new Irish gin.
Justin Green & Antony Jackson, the partners behind Ballyvolane House Spirits Company greeted guests, led tastings, and made B&Ts (Bertha and tonics) and Bertha's Revenge martinis throughout the evening. Guests enjoyed their Bertha based drinks alongside Ballyvolane House cured Bertha's Revenge salmon gravlax with dill mustard sauce, Gubbeen cured meats and salamis with apple raisin chutney and homemade hummus and baba ghanoush dips.
A Guinness World Record-holder as the oldest cow ever recorded at nearly 49 years old (more than twice the lifespan of your average cow), Bertha was a legendary Droimeann cow from Sneem, Co. Kerry, who died in 1993. To immortalise her memory, Ballyvolane House Spirits Company has brought her back in spirit in Bertha's Revenge, the gin.
As Ballyvolane House practices a field-to-fork philosophy when it comes to food, now with Bertha's Revenge they echo this intention, championing a grass-to-glass approach with everything they bottle. With some words on adventures in gin-making from both Justin Green and Antony Jackson of Ballyvolane House Spirits Company, as well as a short speech on Bertha's life and her wake from historian and writer Turtle Bunbury, the celebratory Dublin launch of Bertha's Revenge continued until all the gin was gone!
- Please click here to view the photo gallery from the launch