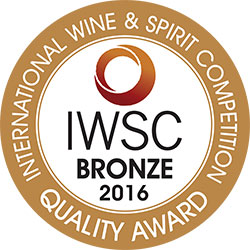 Founded in 1969, the IWSC is considered to be the most prestigious competition of its kind in the world.
The awards given by the competition are believed to be among some of the highest honours in the industry. Judging for the Competition is unique in that it has two stages; first, the products are tasted blind by expert panels, selected from over 300 fully experienced and qualified industry judges. Products which receive the top medals are then subject to technical analysis before results are released; this crucial stage ensures winners receive complete validation.
Needless to say, we are chuffed-to-bits that Bertha has won a IWSC Bronze 2016 during our first year of production. This is on top of John and Sally McKennas' 'Drink of Year 2016' Megabites Award announced last January. It's been a great start for Bertha's Revenge Gin and very satisfying that all the hard work and time taken to perfect our recipe has paid-off. Bringing her back in spirit! Thank you to the IWSC and the panel of judges. We have been celebrating!