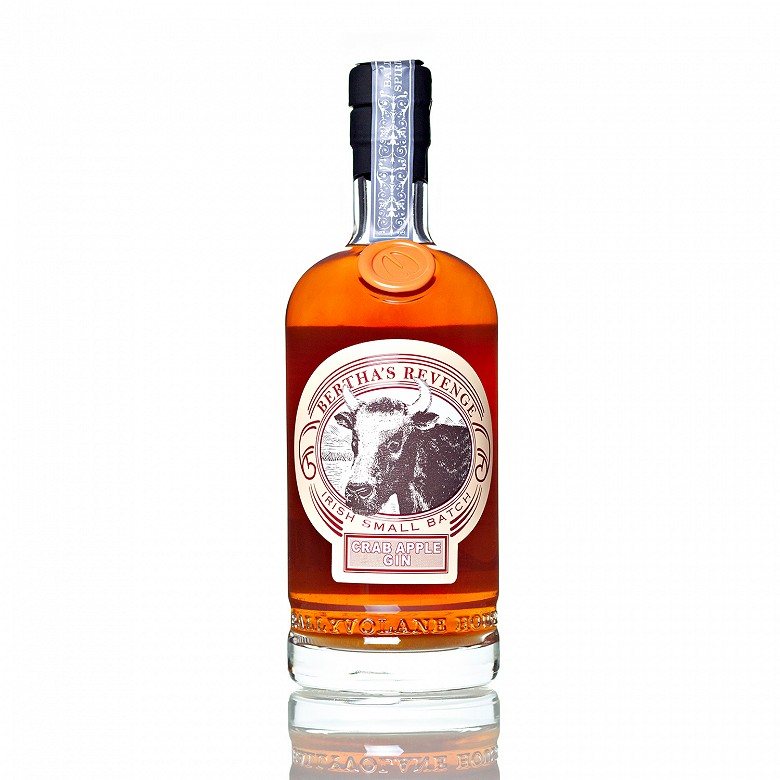 Antony Jackson and Justin Green co-founders and distillers of Bertha's Revenge Gin are delighted to introduce a new member to their little herd 'BERTHA'S REVENGE CRAB APPLE GIN LIQUEUR'.
Crab Apples are attractive to look at, but those rosy ripe skin hues hide a flesh that can be wincingly sour. We age our fruit with BERTHA'S REVENGE IRISH MILK GIN for a number of months, and then filter before adding some local honey, jaggery cane sugar syrup and cloves prior to bottling. The crab apples are supplied by our friend David Keane, an apple grower from nearby Cappoquin. His crab apple trees are excellent pollinators for his apple orchards due to the long flowering time. Some of the crab apples also come from our own gardens at Ballyvolane House.
We have developed Bertha's Revenge Crab Apple Gin Liqueur to be both a supporting band member as well as a solo artist on the drinks stage; she can be enjoyed neat or is an excellent base for a warming winter cocktail like a spiced gin and apple punch. BERTHA, a legendary Droimeann cow from Sneem, Co. Kerry, died in 1993. At 48 years of age she became the world's oldest cow, having given birth to an eye-bulging 39 calves over her lifetime. To immortalise her memory, we have brought her back in spirit – literally! Using whey alcohol from Irish dairy farmers, our own natural spring water and incorporating an interesting mix of locally foraged and sustainably sourced botanicals, we have hand-crafted a gin reflecting Bertha in her prime.
Bertha's Revenge Crab Apple Gin Liqueur (31% ABV) is sold in 50 cl bottles, costing €35.00 RRP and is currently available online via https://shop.ballyvolanespirits.ie/ or from selected retailers in Ireland such as Bradley's Specialist Off-License in Cork, The Celtic Whiskey Shop in Dublin and The Vineyard in Belfast.
LISTED INGREDIENTS OF BERTHA'S REVENGE CRAB APPLE GIN: Crab apples, Jaggery cane sugar, local honey, whey alcohol (derived from milk produced by dairy farmers in Co. Cork), Ballyvolane House spring water, juniper berries, coriander seeds, fresh citrus peel (orange, grapefruit, lemon and lime), childish enthusiasm, liquorice root, orris root, angelica, laughter, cinnamon, green cardamom, cloves, cumin, bitter almond, elderflowers, Alexanders seeds and love.